Vaccination or Negative COVID-19 Test Required
Show Rescheduled from 7/17/20
A Tribute to Kings
Primus
Black Mountain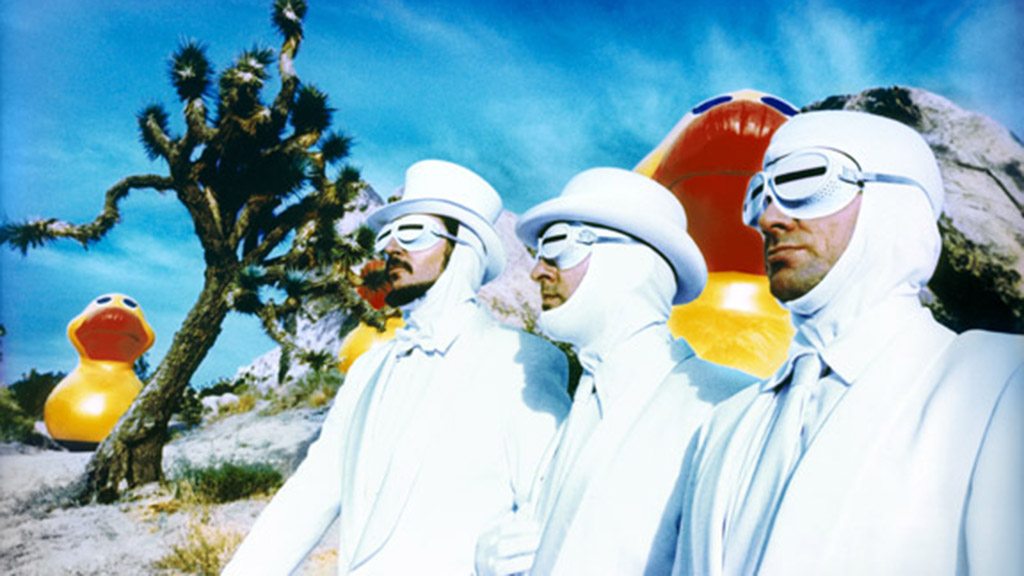 Another Planet Entertainment and the Greek Theatre at UC Berkeley are committed to producing safe events. All patrons attending events at the Greek Theatre at UC Berkeley are required to show proof of full vaccination (must be 2 weeks past final dose) OR a negative COVID-19 test within 48 hours from the time of entry to the venue. For more information, visit our Health & Safety page.
* Policy is subject to change
This event is all ages.
$55.00 – General Admission
*plus applicable service fees
In response to health and safety concerns, our show with Primus 'A Tribute to Kings' at the Greek Theatre at UC Berkeley on Friday, August 20th, 2021 has been rescheduled to Friday, October 15th, 2021. Please note that this show was originally scheduled for Friday, July 17th, 2020.
Tickets purchased for both July 17th, 2020 and August 20th, 2021 will be honored for the rescheduled date in October 2021.
Should you be unable to attend the new date, please go to place of purchase no later than Thursday, May 27th, 2021 to request a refund (30 days from the rescheduled dates announcement). This will allow others who can attend to purchase your ticket(s).
We thank you for understanding and look forward to seeing you at the show!
All doors & show times subject to change.
Add this event to your calendar:
Primus will pay homage to prog-rock legends Rush this summer with A Tribute to Kings, a cross-country tour that will feature the Bay Area trio playing Rush's classic 1977 album A Farewell to Kings in its entirety, in addition to their own music.
"A little over one year ago, Ler Lalonde and I started kicking the idea around of Primus performing a series of shows featuring an iconic Rush album from our youth," says bandleader Les Claypool. "Being that A Farewell to Kings was the first Rush record I ever heard, and that it contains my all-time favorite Rush tune, "Cygnus X1," the choice narrowed quickly. Years ago I had done something similar with Colonel Claypool's Fearless Flying Frog Brigade, when we covered Pink Floyd's Animals in its entirety. It was an insane amount of work, but ended up being one of the most enjoyable live endeavors I've ever done. Dubbing the tour 'Primus: A Tribute to Kings,' it was originally scheduled to be performed in the Fall of 2019 but, when we were asked to support Slayer on their Final Campaign, the 'Tribute to Kings' tour was postponed.
Geddy, Alex and Neil had been superheroes to Larry, Herb and I in our teens, so when we all became pals while touring together in the early '90s, we were pretty delighted; partially because of the musical geek-out factor but mostly because the three guys whom we had admired so much from afar, turned out to be truly great, down-to-earth humans, and like us, a tad eccentric.
The 'Tribute to Kings' tour will be just as it is implied, a respectful and loving tribute to three spectacular musicians, songwriters, legends and friends."
Black Mountain's Stephen McBean turned 16 after Woodstock but before Varg started burning down Norwegian churches. And yet, until just two short years ago, McBean had lived his entire adolescence and adult life without a proper driver's license, that first and most coveted ticket to personal independence. Black Mountain's new album, Destroyer, is imbued with all that wild-ass freedom and newfound agency (and anxiety and fear) that comes with one's first time behind the wheel.
Destroyer, named after the discontinued single-run 1985 Dodge Destroyer muscle car, is structured around the feeling of driving a hot rod. The album exists in the middle of the early-to-mid 80s Los Angeles war between punk and hair metal – it's exhilarating, spirited, and dangerous. Throughout, youthful themes run rampant: "Boogie Lover" cruises down the Sunset Strip, "Horns Arising" is a fill-up at a desert gas station just in time to see a UFO hovering near a mesa, and "High Rise" rounds out a sense of teenage discovery.
To create Destroyer, McBean shacked himself up in his rehearsal space and invited over friends from the endless rock'n'roll highway, bringing to life 22 songs. While some were laid back into shallow graves to dig up once again at a later date, the others were left above ground and polished and given life, some transformed by longtime band member Jeremy Schmidt. This generation of Black Mountain also sees new members Rachel Fannan (Sleepy Sun) and Adam Bulgasem (Dommengang & Soft Kill) as well as familiar collaborators Kliph Scurlock (Flaming Lips), Kid Millions (Oneida) and John Congleton (St. Vincent, Swans).  Collectively, there's a renewed vitality to Black Mountain on Destroyer — a seasoned, veteran of heady hard rock that's found new, young muscles to flex and roads to explore.