Yeah Yeah Yeahs
Perfume Genius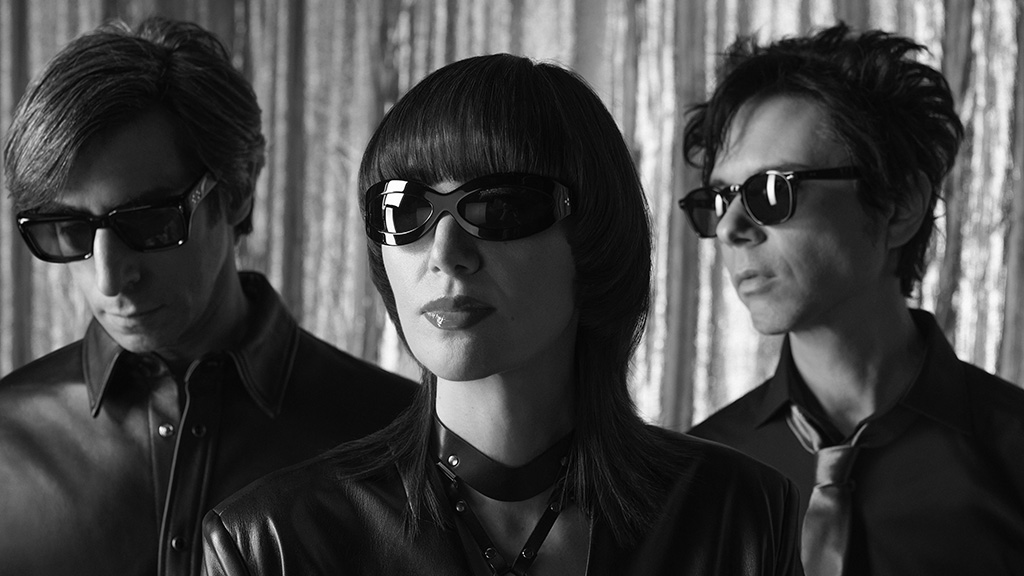 This event is all ages.
$65.00 – General Admission
*plus applicable service fees
All doors & show times subject to change.
Add this event to your calendar:
It could only be called alchemy, the transformative magic that happens during the Yeah Yeah Yeahs' most tuned-in moments in the studio, when their unique chemistry sparks open a portal, and out comes a song like "Maps" or "Zero" or the latest addition to their canon, "Spitting Off the Edge of the World" — an epic shot-to-the-heart of pure YYYs beauty and power. "It's really awe-inspiring to watch the process of Karen's melodies and lyrics just coming to her, right there," says guitarist Nick Zinner. "Like, 'what the fuck, where did that come from?' When it strikes her, it's the most incredible thing."
"The look on Nick's face when that happens," Karen O says, with a laugh, "it's primo, man. I know I'm onto something because I can tell it's hitting him somewhere in his soul. We've been doing this together so long, and there are moments when the song comes from God-knows-where, and it feels like there's a change in the air quality, in the atmosphere, like when it's about to thunderstorm."
A thunderstorm of a return is what the legendary trio has in store for us on Cool It Down, their fifth studio album and their first since 2013's Mosquito. The eight-track collection, bound to be a landmark in their catalog, is an expert distillation of their best gifts that impels you to move, and cry, and listen closely.
They never expected it to be so long between albums, and they certainly had stayed busy: There was a tour for their 2003 debut album, Fever to Tell that was re-issued in 2017; Karen released an album with Danger Mouse (Lux Prima, 2019) and co-composed the score for the animated film Where Is Anne Frank?; Nick made an album with his hardcore side-project Head Wound City, scored films, and collaborated with artists including Phoebe Bridgers, Amen Dunes and Songhoy Blues; drummer Brian Chase started his own label Chaiken Records. Karen and Brian both became parents in recent years.
The band had even begun talking about new music back in early 2020, but then the world stopped. "I was having dreams, as I'm sure many people were during the early part of the pandemic and lockdown, of places I'd been," Karen says. "Dreams of cities we've toured in the last twenty years together, whether it's Byron Bay or Paris morphed with Mexico — my brain was taking me to all these places. And I felt, for the first time, 'what if we don't get to do it again?' That thought had never crossed my mind before and I really felt it profoundly during the pandemic: I realized I'd taken for granted that we'll always be able to go out on the road and play shows, that we'll always be able to make more music when we want to. And having gone through the collective trauma of what we experienced, I really wanted to get in a room together and jam, and see what our subconscious was going to unleash after all that time."
She and Nick got together in spring of 2021 to give it a try. "We started playing music and it just came flooding out of us," Karen remembers. They began in April and were basically done by August – "the quickest a record has ever come to us."
"Flooding is a very apt word," says Nick. "I think all of us needed this release. For me, in 2020, I could not do anything. I tried working every day, and nothing came. It was completely frozen. I spent the month of March 2021 trying to get back into creating and making what I thought could be little starter ideas, just to define some of the elements." They made demos at Nick's place in Los Angeles and carved out time with producers they knew would elevate the tracks, including Justin Raisen, Andrew Wyatt and longtime collaborator Dave Sitek. who has contributed to every Yeah Yeah Yeahs album since Fever To Tell and whom the band consider "basically a fourth member of the Yeah Yeah Yeahs, at this point."
Early on, Sitek shared a folder of song-beginnings that included the framework for "Spitting Off the Edge of the World," and Karen connected with it right away. "When I heard the opening line, it felt like a waterfall," she says. "[David] Bowie came to mind immediately. Sitek was actually friends with Bowie, and it felt like he was tuning into that frequency of artistry. And so when I was writing the lyrics and the melody, that's who I was trying to tune into, as well. Because I've never tried to evoke Bowie before. But he's gone now, and there's a big, gaping hole." And when she imagined another voice joining hers on the tune, the idea to invite Perfume Genius's Mike Hadreas felt obvious. "Mike really has a bit of Bowie in him," she says. "He was literally the first and only person that came to mind for it."
Karen explains that the lyrics for "Spitting…" (as well as other songs on Cool It Down) reflect on the state of the environment, and the need for honesty about the damage we're doing to the Earth. "We're all experiencing this climate crisis through a system which is broken and not really addressing it," she says. On "Spitting…," she reframes the topic as a personal conversation with her son about the world he's inheriting. "I see the younger generations staring down this threat, and they're standing on the edge of a precipice, confronting what's coming with anger and defiance," she says. "It's galvanizing, and there's hope there."
Nick had sent Karen the initial idea for "Burning," and when they got into the studio, he says, "she had zoomed in on this one 15-second part and was like, 'what if we speed this up?' That became the piano loop in the song, but it was just the beginning." As they continued working in Nick's basement studio, they had another of those otherworldly moments when the words and melody thunderstormed in. "The first verse just came," says Nick. "I watched it enter her, like she was downloading it from somewhere. I get shivers just thinking about it. It was absolutely incredible and the first part of that song came together in like half an hour."
"I didn't want to hit the nail directly on the head, but it feels like at this point, we should just be screaming certain things," says Karen. "In LA, 2020 was one of the worst years for wildfires. And that hook — 'into the sea, out of the fire' — just came right through me." Melodically, she says they were inspired enough by the Four Seasons' classic "Beggin'" that its writers are credited on the track. "Nick and I have loved that song forever, and played it at every house party DJ set we've ever done together," Karen says, "so it's in our bones, to a certain degree."
And that's not the only track where they embraced the opportunity to honor their influences. The Justin Raisen-produced "Fleez" references the pioneering New York City art-funk band ESG, whose early 80s singles are among the most frequently sampled tracks in modern music history, period. "Fleez" incorporates elements from the 1981 ESG song "Moody (Spaced Out)", and includes writing credit for the band's Renee Scroggins. Karen says ESG have been a massive inspiration to her, ever since discovering their music via the 2000 compilation A South Bronx Story. "Hearing that changed my life when I was 22," Karen says. "The style and attitude and power and sexuality — all of it. So we didn't shy away from leaning into that. Just like with 'Burning", at this point in our career, we want to pay homage to the music that left a deep impression on us."
Whereas anthemic, dancefloor-bound tracks like "Burning" and "Wolf" and "Spitting Off the Edge of the World" could be seen as big, bold rallying cries to a new collective consciousness, there are also songs like "Blacktop" and "Mars" whose delivery is so intimate, it's as though Karen O is whispering them to you alone. "After a time of being apart so much, I wanted a kind of radical closeness, like feeling someone's breath on my face," she says. "Mars" is also one of a few instances where Karen's vocals are spoken rather than sung, which she'd never before attempted. "I did an interview with Michelle Zauner from Japanese Breakfast and she asked, 'Have you ever thought about writing poetry?' It was like, 'Yeah, I've thought about it this whole time.' So I started writing, and 'Mars' was probably the first poem I had written since high school. It was scary at first to read it as a poem, but it really resonated with the soul of the record. And it's an amazing thing to feel vulnerable this late in your career, and to try things that make you feel totally like a beginner again."
Though the Yeah Yeah Yeahs were only able to be physically together in the studio for four glorious days at Sonic Ranch in Tornillo, Texas, that just highlighted the preciousness of time, and reaffirmed their resolve not to take anything for granted. "Music has been a lifeline for me and Nick and Brian over the last 21 years, as it is for so many people." says Karen O. "It's a safe haven for big emotions. For a lot of the songs on this record, we're giving voice to the feelings I want to hear reflected back to me in music. It's confrontational, and it's emotional, and it's addressing things that nobody wants to look at. As an artist, there's a responsibility to do that. I know when I feel that reflected back to me, I'm so grateful, because it makes me feel less crazy and less alone in the world. That's where music reigns. This record was a chance for us to use that superpower. This record feels like it has a different kind of urgency."