3rd Show Added by Popular Demand
Give Up & Transatlanticism 20th Anniversary Tour
The Postal Service
Death Cab For Cutie
The Beths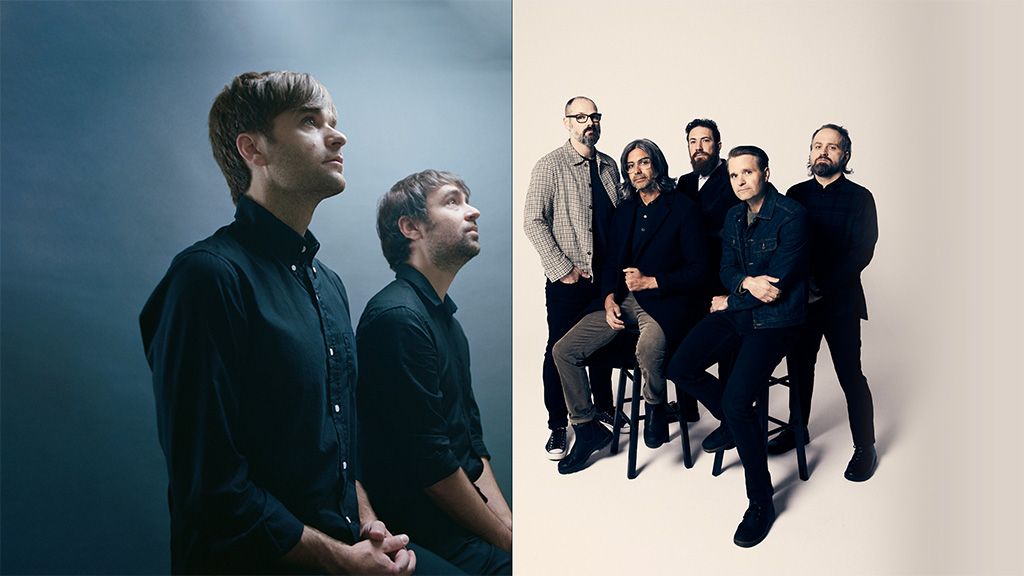 This event is all ages.
$75.00 – General Admission
*plus applicable service fees
All doors & show times subject to change.
Add this event to your calendar:
To celebrate two decades of 'Give Up' and 'Transatlanticism', The Postal Service & Death Cab for Cutie have joined forces for an unprecedented 20th anniversary co-headline tour. Each night, Benjamin Gibbard, the co-founder of both bands, will pull double duty performing with The Postal Service – comprised of Gibbard, Jimmy Tamborello, and Jenny Lewis – as well as with Death Cab for Cutie (alongside Nick Harmer, Dave Depper, Zac Rae, and Jason McGerr). The extraordinary live run will see both iconic groups performing their seminal 2003 albums in full.
Death Cab for Cutie is an American alternative rock band formed in Bellingham, Washington in 1997. The band is composed of Ben Gibbard, Nick Harmer, Jason McGerr, Dave Depper, and Zac Rae. Death Cab for Cutie rose from being a side project to becoming one of the most exciting groups to emerge from the indie rock scene of the '00s. They have been nominated for eight Grammy Awards. The band's tenth studio album 'Asphalt Meadows' will be out on 9/16/22 and their new song "Roman Candles" is out now."
For a band in its third decade… Death Cab hasn't lost its gift for pairing Gibbard's soft ruminations with propulsive arrangements that know just when to sparkle and sway. But even more importantly, Gibbard himself still sings with a sense of purpose, keenly articulating a distinct swirl of nostalgia, loss and hope for new beginnings." —NPR Music
The Beths return with "A Real Thing," their first new song since the release of 2020's Jump Rope Gazers. "A Real Thing" comes as The Beths begin their long-awaited North American headline tour, which has been rescheduled twice due to the ongoing COVID-19 crisis. Last year, the band released Auckland, New Zealand, 2020, a live concert recording that showcased the infectious energy The Beths bring to every performance, and what audiences have been so dearly missing.
"'A Real Thing' is a kind of anxiety dream. It's a bit muddled, a bit frantic, a bit sinister," says lead singer Liz Stokes. "It's what came out of my guitar in late 2020, post NZ election (and U.S. election). I was limply reaching for optimism about the future, but was really just marinating in dread." Ultimately playing more apocalyptic scenarios of climate change in her head, Stokes' lyrics include specific references to how New Zealand has dealt with sea level rise in the past: "In NZ people sometimes use tyres and cement to build retaining walls by the water, to try to stop the land being eroded away as the sea encroaches. It doesn't really work." It's a poignant image for a band that has had to navigate the constant changes in our present moment.
The deep bond between Stokes, lead guitarist Jonathan Pearce, bassist Benjamin Sinclair, and drummer Tristan Deck, has allowed them to overcome challenging circumstances and that's present in the upbeat urgency of "A Real Thing." It's palpable from the very start and paired with the band's signature bright, raucous guitar hooks and cooing harmonies; the song races and soars, much like an increasing heart rate. The Beths' infectious and insightful songwriting on "A Real Thing" is an exciting marker of more excellent work to come, and the perfect way to mark the beginning of tour.